Avgrundsklanger is a one man-operated independent record label based in Sweden, and has a VAT registration. Taxes will be added to all purchases made from within the EU at the confirmation of purchase page, where you can also see how much taxes you are paying.

In 2019, Astral Temple merged with Avgrundsklanger, and the former now acts as a subsidiary to the latter.
Avgrundsklanger has a newsletter. To be added to the list of recipients, send a message through the contact form with the subject title "NEWSLETTER".
We are not actively looking for bands to add to our roster, but if you are truly interested, send us a rehearsal/advance tape by asking for our snail mail adress. Nothing else is accepted.
This means NO SOUNDCLOUD, NO BANDCAMP, NO MP3s, NO WAVs, etc. No exceptions will EVER be made concerning this from a random band inquiring about a potential release, so don't waste your time sending any kind of submission emails containing digital links of any kind. They WILL be deleted on the spot.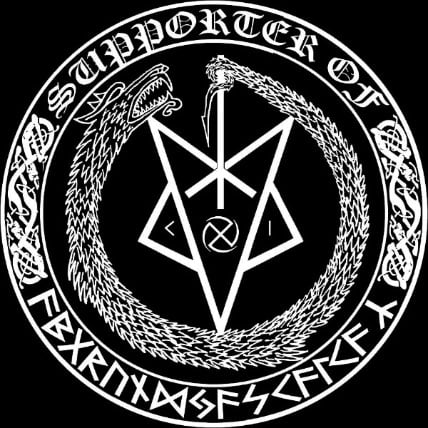 Compendium of past releases (all sold out, unless available in the shop or yet to be released, marked as "Out (year)").
As of 2023, a change was made in the catalogue numbering, as seen below:

AGK01 - Kiira - Tulkoon Yö / Talviyö PRO-TAPE (150 hand numbered copies)
AGK02 - Ruho - Rehearsal April MMXVII TAPE (Undisclosed limitation)
AGK03 - Flail - Rehearsal MMXVII TAPE (Undisclosed limitation)
AGK04 - Onheilig - His Will, My Craft TAPE (50 hand numbered copies)
AGK05 - Araqiel - Essence PRO-TAPE (Undisclosed limitation)
AGK06 - Araqiel - Sarastus PRO-TAPE (Undisclosed limitation)
AGK07 - Kiira - Furai Nurþerana Harjaliskaz Swartai Windōz PRO-TAPE (Out 2023)
AGK08 - Urfeind - Þurisabloþa TAPE (41 hand numbered copies)
AGK09 - Urfeind - Wraiþaz TAPE (41 hand numbered copies)
AGK10 - Xulilitu ‎– Xulilitu TAPE (Undisclosed limitation)
AGK11 - Sünnel - Svatt as Kahl - Tüsken klammen Gras TAPE (Undisclosed limitation)
AGK12 - Viha - Niin tulkoon varjojen maailma TAPE (47 hand numbered copies) / 7" EP (Out 2023)
AGK13 - Kiira / Svartsejd - Kiira / Svartsejd PRO-TAPE (66 hand numbered copies)
AGK14 - ???? - ???? (Out 2023)
AGK15 - V/A - Jēresa Gangaz DIGIPAK CD (300 copies)
AGK16 - ???? - ???? 12" LP (Out 2023)
AGK17 - ???? - ???? 12" DLP (Out 2023)
Releases made before 2023, following the previous catalogue numbering system:
AGKCD01 - Kiira - Tulkoon Yö / Talviyö Digipak CD (300 copies)
AGKCD02 - Black Stench - Creeping Sorcery 2xCD (100 hand numbered copies)
AGKEP02 - Flail - Flail 7" EP (200 hand numbered copies)
AGKLP01 - Black Stench - Shapeless Spectres Gathering 12" Single Sided LP (136 hand numbered copies)
AGKLP02 - Black Stench - Seven Spears of Necromancy 12" LP (96 hand numbered copies)
AGKLP03 - Black Stench - Black Stench 12" LP (100 hand numbered copies)
AGKMLP01 - Frozn - Requiem On My Grave 10" MLP (100 hand numbered copies)
AGKMLP03 - V. / S.S. - L. T. T. T. C. N. S. / A. S. 10" MLP (Undisclosed limitation)

Past official merchandise:

Kiira - "Thurisawulfaz" T-SHIRT